Hair Color Choices for Morenas
The perfect morena hair color differs for everyone. This article can help you choose the right shades and know the proper treatment to care for them.
09/03/2022
According to psychologist Vivian Diller, the way we look affects our personal, social, and professional lives. This is why many people change their looks to achieve confidence. One of the most popular decisions involves changing their hair color. After all, hair has been regarded as a person's crowning glory.
Many lists online will tell you what your next hair color should be. However, most of these cater to a general audience. If you want to find a color that matches your confidence and style, look for tips suited especially for you. One of the most important factors to consider is your skin tone.
If you happen to have morena skin, don't worry! This article will provide you with the best hair colors for a morena and some essential tips for coloring and taking care of your hair at home.
Best Hair Colors for Morena Skin
1. Golden Brown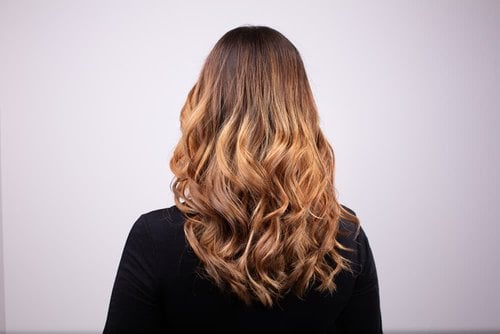 A golden brown shade is best on warm skin tones because it gives the face a healthy glow. The gold tint highlights the skin's natural tone, complementing it perfectly.
2. Caramel Brown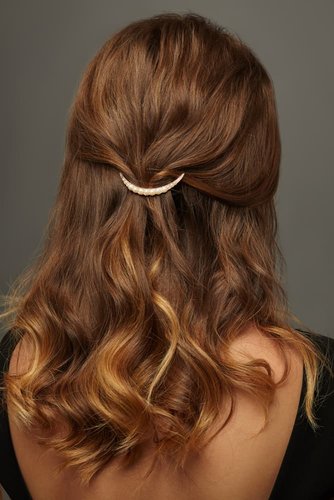 A caramel brown hair can add to the depth of your skin tone. This is most evident when under the sun, where your hair pigment becomes more striking. If you're a bit hesitant about a full-color, you can use this virtual hair color try-on to see if you'll like it or not.
3. Platinum Blonde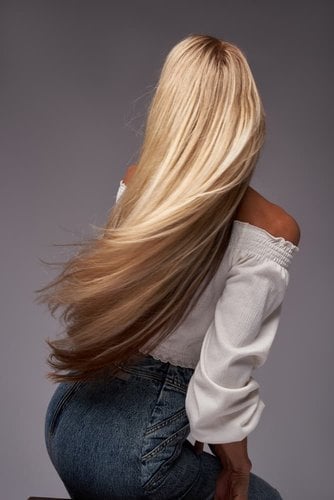 Going blonde is a total commitment, not just in the process but also in the treatments after. This hair color for a morena would usually depend on the warmth of their skin tone. Those with deeper, richer, and warmer skin tones can sport an icy platinum blonde because of the contrast.
4. Ash Gray or Brown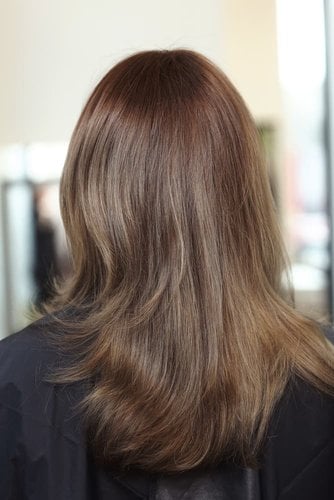 Try wearing ash brown as highlights for a unique look! Make sure to leave your roots untouched so that it's easier to maintain. Once your hair starts growing, the transition won't look too tacky.
5. Natural Black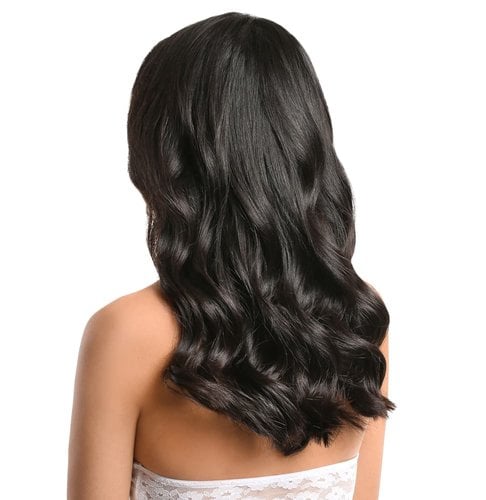 Unlike a jet-black shade with blue undertones, a natural black shade has some brown tint, making it flattering on morena skin. This is especially noticeable if hit by sunlight.
6. Espresso
A great thing about an espresso hair color is that it's a darker hue with a brown undertone like the natural black. It gives depth and dimension to your hair and makes the overall look sultrier and sexier, especially when paired with a smokey eye look.
Tips for Hair Coloring at Home
Dyeing your hair is a fun experience, but it's also a commitment. For the color to stay on, proper care and assistance are needed. Here are the tips you should follow when coloring your hair at home.
1. Consider your hair texture
Texture matters when coloring your hair. Coarse, curly, or frizzy hair can suck up the color faster and make it cool-toned. This makes your hair look ashier or bluish. If you're a morena with this hair texture, stay away from formulas that can turn your hair bluish or ashy as it will not mix well with your warm undertone. Instead, go for a formula that ensures the tones won't change after application.
2. Do a patch test and strand test
Not everyone can tolerate the chemicals used in hair dyes. Before doing anything, especially if it's your first time coloring, do a patch test to see how your skin or scalp will react to the dye's chemicals. If you're someone who's already had their hair colored, do a strand test to ensure that the current state of your hair will react well to the dye you will put on.
3. Use a color-safe shampoo
These types of shampoos keep your color-treated hair healthier and can help maintain the color for longer. These shampoos are formulated to give colored hair the extra shine and brilliance taken away by the dye.
4. Use conditioner
Once your hair is dyed, make sure to use conditioner regularly. Conditioner creates a protective barrier around each strand of hair. The extra hydration prevents breakage and damage. Since the ends are usually the driest part of your hair, you should focus your treatment there.
5. Think about the tools you'll use
Colored hair is admittedly more prone to breakage than natural hair because of the chemicals used to achieve your desired color. It will be even more vulnerable if you use styling tools like a blow dryer, flat iron, or curling iron. Remember, heat can make the color fade faster. If you want to style your hair, there are heatless methods you can try out.
Express Yourself Through Your Hair
Haircare is essential, so make sure that your crowning glory is taken care of regularly, especially after dyeing it. Hair color has long been used to express confidence. However, with the many color choices available today, it can be overwhelming. Morena hair color is tricky to get right if you don't know where to start, but with these tips, you'll be able to choose the right color and care for your hair.
Garnier Color Naturals offers you an easy way to achieve your dream hair color from the comfort of your home. You can now achieve silky, luscious, and nourished hair that's vibrant and full of life!
Check out the Garnier shop for more nature-inspired self-care products like skincare and beauty!